International Mobile Equipment Identity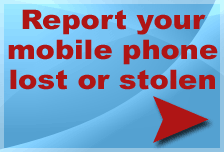 Choose your network provider from the list below, then click submit. We will provide full details of how to report your contract mobile phone lost or stolen:


The Structure of an IMEI Number
IMEI numbers either come in a 17 digit or 15 digit sequences of numbers. The IMEI format currently utilized is AA-BBBBBB-CCCCCC-D:
AA: These two digits are for the Reporting Body Identifier, indicating the GSMA approved group that allocated the TAC (Type Allocation Code).
BBBBBB: The remainder of the TAC
CCCCCC: Serial sequence of the Model
D: Luhn check digit of the entire model or 0 (This is an algorithm that validates the ID number)
¬ READ MORE ABOUT IMEI ¬ HOW TO FIND YOUR IMEI ¬ HOW TO KEEP YOUR MOBILE PHONE SAFE
To ensure that we give you the most up to date and therefore accurate information, this website is updated on a regular basis. Please feel free to contact us if you find any information incorrect and we shall amend any errors.