International Mobile Equipment Identity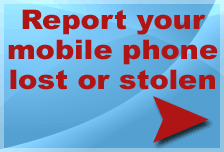 Choose your network provider from the list below, then click submit. We will provide full details of how to report your contract mobile phone lost or stolen:


Reduce the chance of your mobile phone being stolen
Crime Prevention: Looking after your mobile phone
There are some basic steps you can take to protect your mobile phone from being stolen:
Encourage your friends and family to register their mobile phone IMEI numbers on IMEI.org.uk
Register your mobile phone on the immobilise website - an effective tool to combat crime
Ensure that your phone is with you at all times and pay attention to its location
Be aware of pickpockets in crowds and do not make it easy for them
Do not display phones in an unattended vehicle
Do not advertise your mobile phone to thieves
If you are buying a second hand phone, is it from a legitimate source? Take care that you are not handling stolen goods
Before you buy a second hand phone, check that it has not been stolen - you can check before you buy using www.checkmend.com (a small cost is involved)
Avoid using your phone in large crowds, thieves can easily disappear into the people
Take extra care with your mobile phone at music concerts, festivals etc as thieves target these types of events.
¬ READ MORE ABOUT IMEI ¬ HOW TO FIND YOUR IMEI ¬ HOW TO KEEP YOUR MOBILE PHONE SAFE
To ensure that we give you the most up to date and therefore accurate information, this website is updated on a regular basis. Please feel free to contact us if you find any information incorrect and we shall amend any errors.